BELLINGHAM, WASHINGTON — I didn't realize what I would learn living in a van for twenty months. I also didn't anticipate living in a van for that long!
One thing I do know is that life is an adventure and it can take you some amazing places.
I have spent 20 years being an ultra-runner. I just released the second edition of my book, "Running Your First Ultra." I am a coach and race director. I am also a multi-sponsored ultra-running athlete. I've traveled the world: France, China, Japan, Australia, New Zealand, Chile, Iran, Ecuador, Hong Kong, and 30 of the 50 States, I am all over the place. I've lived in Boulder, Bend, and Seattle. But Bellingham, Washington feels the most like home. I grew up not far from here, so I think there was something about the familiarity of coming back to a space that I connected with. It's a familiar vibe and I love it here. This place is where I felt grounded and connection with the community.
That was probably the biggest home-buying motivator, even though the market was so discouraging for so long. I knew I wanted to stay here. Even though I could never have anticipated how long it would take, it was worth sticking it out.
When I moved back to Washington from Colorado, I wanted to buy a small home with a yard. But I had an opportunity to help my sister by living with her in a condo, so Sean Hackney (with NextHome Northwest Living) helped me find that condo and buy it in 2015.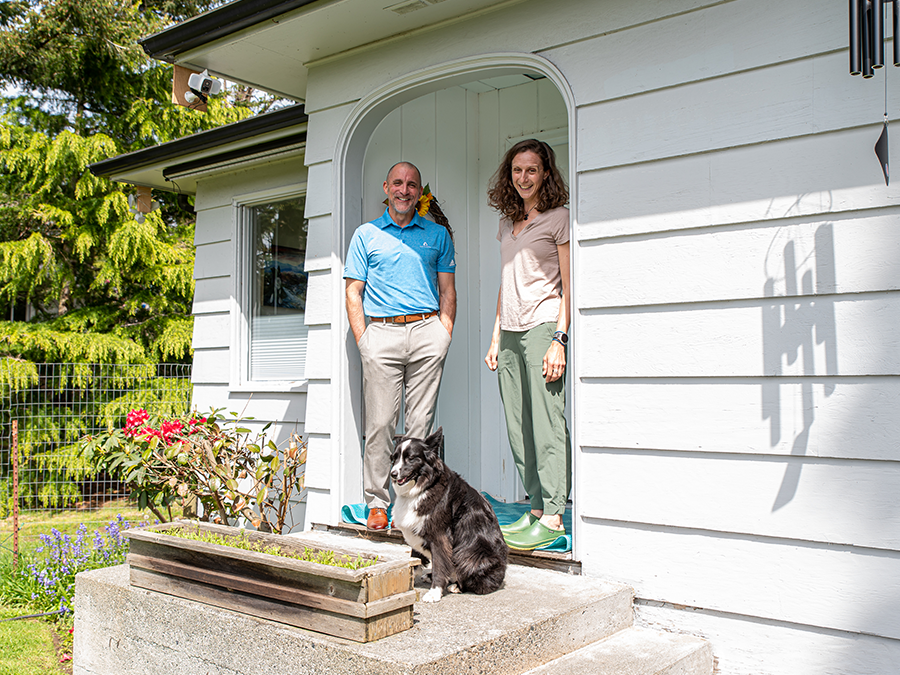 In May 2020, my sister had moved on and with Sean's help I started looking again for that house with a yard. I put in a few offers.
Unfortunately, after learning about the competing offers I was up against, I knew I needed more of a down payment. And being contingent was not going to work in the market we were in. It was summer and I had bought a converted Sprinter van a year prior. I thought that van could bridge the gap and make for a fun summer. So I packed up everything, put it in storage, and moved into the van with my mini-Australian Shepard, PD.
It ended up being almost two years.
Sean stuck with me the whole time. He is such a spark and a great energetic person. But twenty months is a long time to stick with a client, and there were a few times when I wondered if this was too much.
I also think I challenged him because I didn't have a dialed-in vision for what I wanted. I'm a pretty easy-going person, so many of home options would have worked for me and my goals.
"We were looking in an escalating, tight inventory market like nothing we've ever seen," Sean added. "Showings, offers, frustration and disappointments. All the while Krissy kept this great outlook. Going through a challenging journey never feels great at the time, but because of all she's gone through and endured it made finding this home all the more special."
When other people started working from home, I rented an office at the Prime Sports Institute to continue my coaching and race directing and to have some space from the van. I learned a lot in those 20 months, and the van definitely gives me a sense of home, but the winters were hard. I stayed with friends sometimes. I learned where to park, where I could plug in, and relied a lot on my weather app.
The other piece of this was that I was living the van life during the height of a pandemic, so it wasn't as if I could pick up and go on these big adventures anywhere. I felt a responsibility to my community, so I got to know this area very well.
I took three months off from house hunting to work on my book, but otherwise Sean and I were looking that whole time. I put in 6-8 offers, paid for several pre-inspections, and learned a lot about homes.
When I first saw this house, I had a feeling it would be the one. Energetically, I felt like this was the one to make a bigger push for. The offers escalated, but the fact that I was even given an option to counter was so encouraging. I had to have a good real estate agent and mortgage lending team to make this work. I also think I had to go through all of those other failures to recognize when it was the right time to push for this one.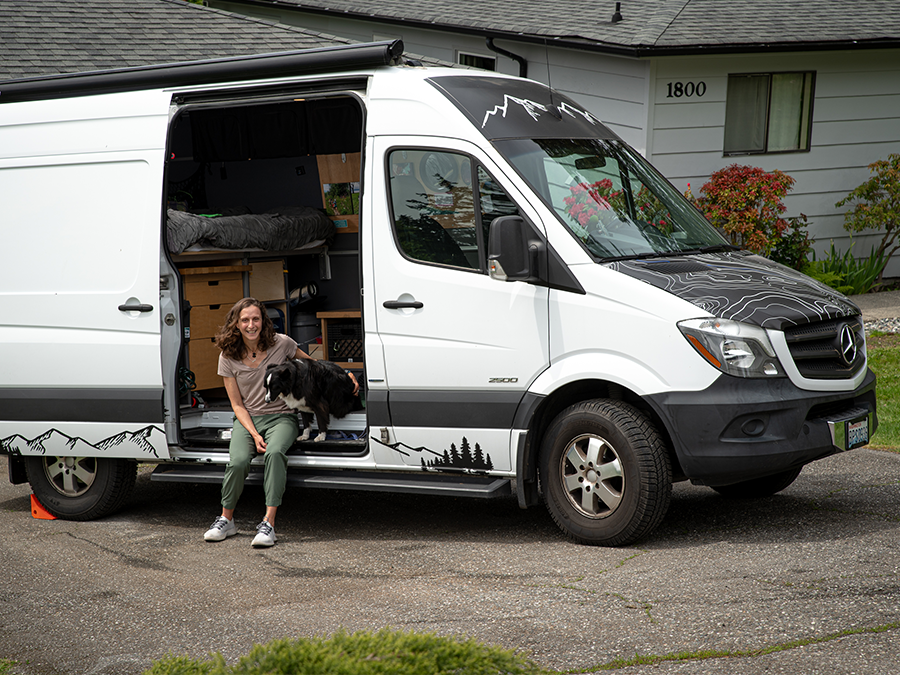 I closed on February 17, I got the keys on February 28. Then, on March 1st, I moved my air mattress & PD's food bin in and got my things out of the storage unit on March 8th.
Meanwhile, I am the race director for the Chuckanut 50K, a mountain ultra that attracts more than 500 runners worldwide. That race happened on March 19th. Oh, and my book was released on March 8th.
I stayed focused on what needed to get done. Even though it was a crazy time, I felt like I did a pretty good job getting through all that.
Honestly, it was pretty grounding to know that I had a home. I was so excited about moving that the stress wasn't bad – it gave me energy.
The night I got the key and walked into my house with PD was a calming experience. What I saw was a bigger yard and a smaller house and a driveway to park my home (the van). It took seven years but I finally did get to that goal I had when I moved back to Washington in 2015.