LeMars, Iowa — Sometimes, James Clinton's mind wanders back to Afghanistan. In those moments, the disabled veteran lives with explosions, the shock of a gunshot wound, fear, and the memories of lost friends. But with a gentle nudge, Patton, a German shorthaired pointer, can bring James home.
"A lot of times, veterans will get lost in all the trauma they've experienced," explained Molly, James' wife. "Patton does such a good job of grounding James and bringing him back into the present moment."
With Patton and his family by his side, James is finally home.
Home for the Clinton family is Le Mars, Iowa, outside of Sioux City, in a friendly neighborhood with a large backyard.
"We have been in this house since 2019," James said. "We've lived in a lot of different houses and this is home. We moved in just a week after our youngest was born, so this is the only home she has ever known. We couldn't be more thankful to Vicki Kollbaum with NextHome TriState Realty for everything she did helping us find the perfect home to raise our family."
"Patton runs around here like he owns the place," Molly added with a laugh.
That feeling of home is a stark contrast to James's time in Afghanistan.
James left for Afghanistan in 2010, serving in the U.S. Army Infantry as a .50 Caliber Gunner.
"Our convoy was ambushed by the Taliban," James recalled, his voice getting soft. "Rocket-propelled grenades and small arms fire were shot at our convoy. Later on in my deployment, I was shot. I lost some intestines, had my colon taken out, and lived with a colostomy bag for nine months. I did get it reversed, but I was medically discharged in 2013."
Although James was now stateside, the feeling of home remained elusive.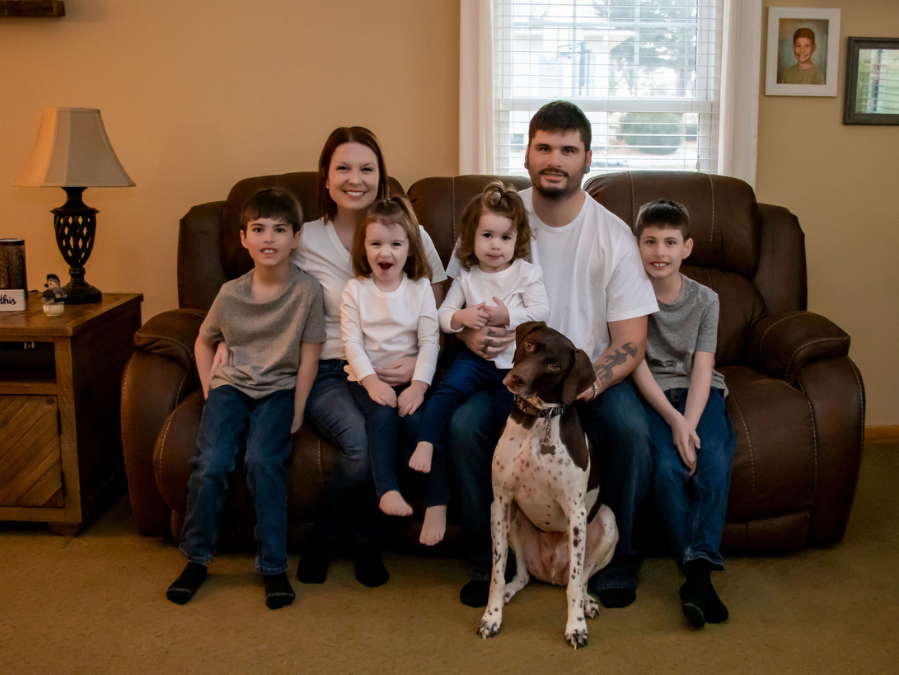 "I suffered a lot with alcoholism," James said. "I dealt with a lot of demons. There were nightmares. I knew people who had benefited from service dogs, so I thought I would look into it. I was drinking a lot at the time and wasn't helping myself. One night, I was at an American Legion meeting and one of my good friends did a presentation on Partners for Patriots and that's how I got set up with them."
The Iowa-based organization trains service animals for veterans who struggle with both the physical and mental impacts of war. Ever since adopting Patton through Partners for Patriots, James and Molly have been vocal ambassadors for the program that changed James's life.
"In the mid 70's, trainers started expanding the tasks that dogs were doing for disabled people and more and more the dogs were used for much more than leader dogs for the blind," writes Cindy Brodie, the founder of Partners for Patriots. "There are so many tasks a dog can be trained to perform. Every 80 minutes in this country, from 2015 statistics, a Veteran with PTSD commits suicide. These dogs are lifesavers."
Partners For Patriots was formed in 2009 in Tennessee and relocated to Iowa in 2013.
James discovered them in 2017, after struggling for years with the impacts of war.
"Now, I share my story and I've started doing programs with Partners for Patriots," James said. "We have been to churches, annual fundraisers, the Plymouth County fair. It's cool to go around and raise awareness for the program."
"Veterans come back and they don't feel understood," James explained. "They don't feel loved. They feel like outcasts and like they are not accepted. There's no one else who knows what that experience feels like. The work I do advocating for this group has made me realize that I'm not the only one out there suffering. This need for service animals is so huge, it even dates back to the Vietnam guys. We talk about how lonely they are. A lot of them use alcohol or drugs to self medicate. They went through a lot more than what we went through. Then I see them get dogs and it changes their lives. I like to see the other veterans get help."
"For me, I see Patton as my battle buddy," James continued. "He's like a fellow soldier to me, like a brother. That sounds silly to say because he's a dog, but he's more than that to me. I suffered from alcoholism for a number of years. I got to the breaking point where I needed to go to treatment. That's when I got Patton. I was in treatment and I was having a really hard time with withdrawals and Patton reassured me that I wasn't alone and I would make it through."
"There's been times when I've had some traumatic nightmares that deal with the war and he will wake me up. And I cannot tell you how much of a difference it makes when I wake up and he is there. Just feeling his gentle weight is really comforting," said James.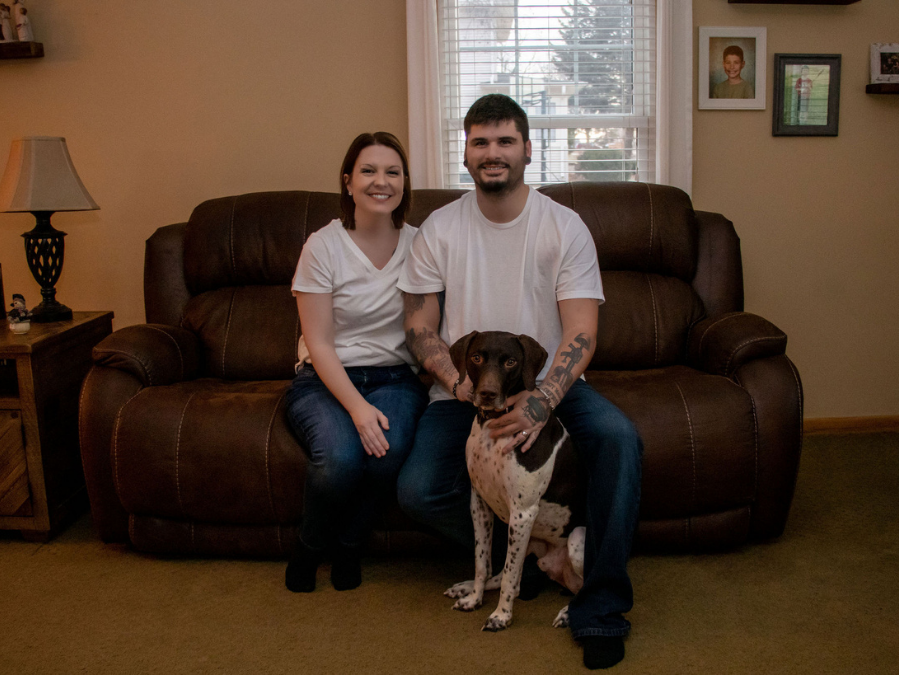 "Everybody thinks their dog is great but if you met Patton you would understand he is an amazing dog." Molly added. "Patton has been trained very well. James struggles a lot with PTSD and anxiety and depression, and Patton just gets it. He could be sitting here and it won't look to me like James is struggling with anything, but Patton picks up on it immediately."
"Patton does such a good job of grounding James and bringing him back into the present moment, and really bringing him home. He's the perfect match for our family. We couldn't ask for a better dog. In return, we are so happy to help other veterans get the same relief that we have."
James and Molly continue to be vocal advocates for Partners for Patriots, even house training one dog who was eventually homed with a veteran in California. As they continue to settle into their forever home, the Clintons are happy to have found a place where they can truly relax. "It was a remarkable experience helping the Clinton family find the house where all of them, including Patton, could enjoy the feeling of truly being home," Vicki said. "I am so blessed to have new lifetime friends."