HURT, VIRGINIA — Owning our own home was something we'd always wanted, but we never imagined we would have something so nice. I never imagined this house we are in now was something we could achieve.
You think to yourself, "I work hard, everyday, weekends, how can I provide my family with the home that they need?" Owning, or not owning, a home has an effect on you, psychologically.
When we first got the keys to this house, I was tip-toeing around. It didn't seem like it was ours. It took some courage to start doing stuff around the house like cutting tree limbs.
I'm 52 years old and I have never mowed my own lawn until now. With that much history of never owning a home, you are kinda waiting for somebody to come around and say, "Hey, what are you doing to my place?"
We really didn't have high hopes for homeownership until we met Jenny Entsminger with NextHomeTwoFourFive. She changed our lives.
Becoming homeowners was difficult for many reasons. When my father-in-law passed away in 2008, we moved in with my mother-in-law. Me, Veronica, and my teenage daughter Brittany lived with her in her two-bedroom house.
It wasn't great.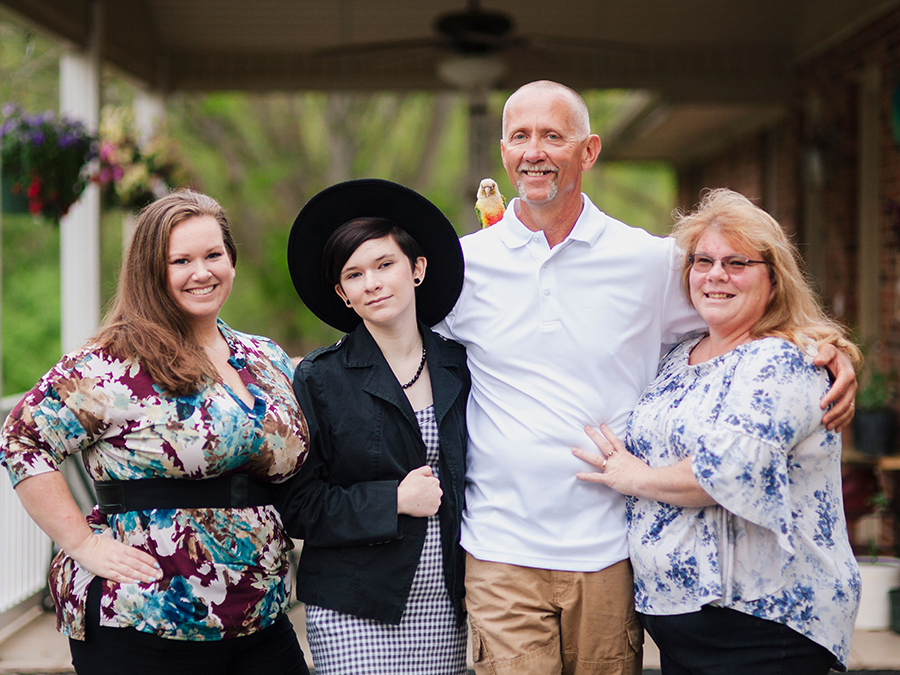 Our credit also needed improvement. We had debts that needed to be paid.
Eventually, Veronica and I sat down and had a serious conversation. We knew we had to do something.
We started quietly looking at homes, but my expectations were very low. We came into the process timid and nervous, thinking that we could maybe get something that wasn't really nice.
We met Jenny through a Veterans Administration referral and when she started showing us houses, we knew we had a lot of work to do. Within a matter of months, we sold just about everything we owned in order to get ourselves in good financial shape to buy a place. We love our Jeeps; they are our hobby and passion. But we sold my wife's Jeep. We did everything we could.
"When we first met, they needed to do some credit repair to get approved with a lender," Jenny said. "The lender I recommended gave them steps to take to be able to get pre-approved, which they did with a smile on their faces. They did everything the lender asked and were ready to purchase within a few months! They were a delight from the very first time I took them to see home and were always so excited."
Every step of the way, Jenny kept me from getting discouraged. She was always ready with a calming, reassuring response when I needed it.
"It's going to be OK, you got this," she would say. Jenny would respond with smiley face emojis when I got really discouraged.
It sounds so simple, and maybe silly, but those smiley faces and words of encouragement meant the world to me.
It was six months before we closed on this home. The day we got the keys was pretty amazing.
"Closing day was emotional in the best possible way," Jenny added. "Russell and Veronica teared up and told me they never thought they would be able to purchase a home even though they have wanted to for a while!"
We just looked at it and couldn't believe this was our home.
It's a brick home on just over an acre. I feel like we moved into Mayberry. It's just that quaint, quiet neighborhood. This whole community was built in the 1970s, so the houses all have character and charm. It is amazing that we found something so perfect, especially in this time. I've always dreamed about having a grandfather clock in my house. Now we have two.
Our house has four bedrooms, and is divided into an upstairs suite and a downstairs suite. Each level is fully equipped with its own kitchen, bath, and laundry. Our daughter is a junior in high school. She is a straight-A student who dreams of being a marine biologist someday. Now, she has her own place where she can take some ownership and learn life skills before she goes off to college. She has a piano down there and she has turned the second bedroom into her office.
Once she leaves for college, we can rent out the bottom half, giving us even more financial security.
We send Jenny pictures of the home improvements we are doing. We are planting flowers like crazy. We are trimming tree limbs, and putting in a garden. It is so fun to come home and have things that need to be done with the house. Our house.
Being a homeowner changes the way you perceive yourself, and your ability to provide for your family. Homeownership comes with a feeling of respect that you just can't put a price tag on.
I credit Jenny with a lot of this. She really did change our lives. She is definitely a lifelong friend. She is just amazing.