KENOSHA, WISCONSIN — We were living with my parents, from October 13th to November 23rd. We had sold our house, but buying a new home was tough. That first week of October was hard. If I could go back and tell myself anything, my advice would be not to settle. That our perfect home was out there; and that things would be alright. 
Our story really started last fall when I was scrolling through house listings on my phone out of boredom. Daydreaming, I saw this absolutely beautiful house. It was everything I wanted.
We bought our first home in 2018. It was 950 square feet, sitting on .17 of an acre. It was alright with me, my husband, two little girls (ages nine and two), and a dog, but it wasn't great.
I wasn't even thinking about moving at the time, but this seemed too good to be true. Maybe, in this market, there is also a little fear of missing out. Something was nudging me to reach for more than just an okay house.
Mini Samuel (of NextHome Refined) was the seller's agent on that house. After getting in touch with Mini, it ended up that home I saw just wasn't going to happen for us. But in the process, Mini walked us through selling our little starter home. Her knowledge was extensive, and she produced this beautiful portfolio and marketing plan for our house. We put our little house on the market and got a great offer the day after it was listed.
Looking back, I knew we had settled when buying our first home. I wanted a yard. I wanted something built after the 1990s. I wanted an open-concept kitchen and bedrooms upstairs. We wanted open space.
Getting there was a challenging journey. While looking for our new home, we got turned down so many times. We must have looked at 30-40 different houses. We put in half a dozen offers. No one would even consider an offer that included a home sale contingency. Finally, one time, we got close and were even under contract. However, there were some permitting problems with the basement construction, so we had to let that one go.
So here we were, living with my parents and not knowing if (or when) we would find a home we could buy. In the beginning, when we were looking, we thought we needed to find a house now. We were willing to put in offers for homes that had major issues.
Through it all, Mini was extremely helpful. She had the inside scoop on every house, saving us time and energy. She knew exactly what every house's problems were and aligned those with what we said we were, and were not, willing to deal with. We felt like we had an inside source. Mini was ready to fight hard for us. With her in our corner, we decided we weren't going to settle for any house.
The day before we found our forever home, my husband and I talked. We decided we needed to slow down. Even though it is scary being homeless, we decided we wouldn't settle on a house that was just okay.
The next day, I saw this home online. The pictures weren't great, but the description checked off most of the things we had on our list, so we took a look.
As soon as I walked in, I knew this was the one. It was completely different from the pictures. Everything was open and there was a lot of space. It had a big driveway that my husband loves and a big yard that I love. We put in an offer and it was accepted! This house is 2,300 square feet on a fenced acre and a half. My kids can play in the yard and get their fingers muddy. We can create a family garden and barbecue area.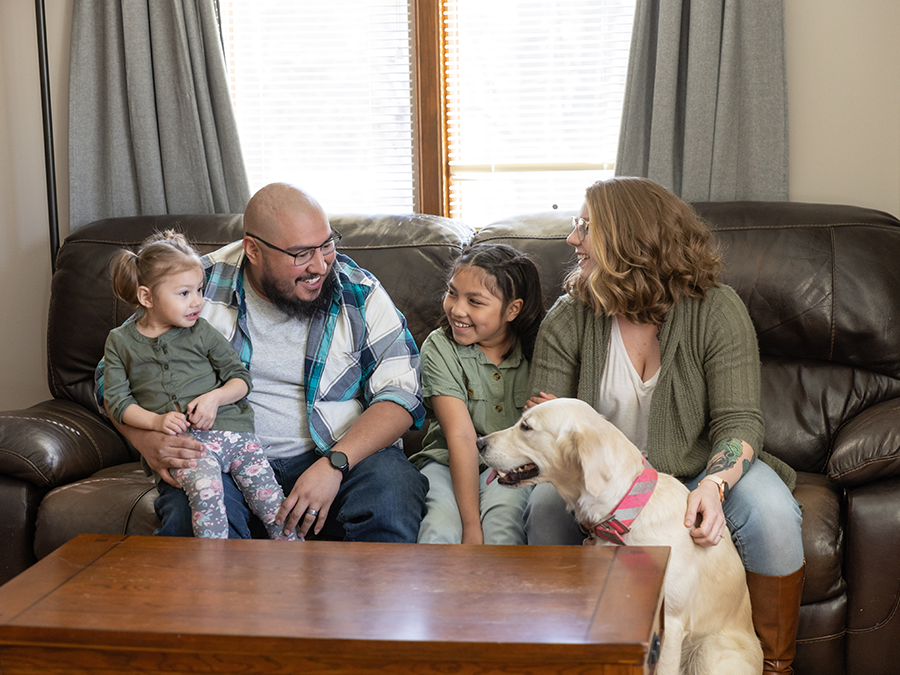 As soon as we moved in and got settled in, I got the feeling that this is our retirement home. If I could pick up this house and move it to somewhere warmer, I would. That's the only thing I would change.
I am still amazed at how things lined up for us to get this house the way we did. The owners had already moved to another state for a job relocation, so it was empty. Looking back, I think it was Mini's persistence that made a big difference. It was also realizing that we need to stop rushing and find "the one." Taking our time got us connected to this house.
Through it all, Mini was right by our side. She never gave up. Even after we closed, and her job was technically done, she offered to throw us a housewarming party. She puts humans over houses, even after the sale.
For anyone who is still going through this, hang in there. The perfect house is there. You have to look and don't get too stressed over the dozens that don't work out. Things will be okay.