Hopefully our story will resonate with people who feel the same way we felt. I still can't believe we get to live in this incredible house when just a few months ago, although thankful that we had a house, I felt hopeless and trapped.
Like a lot of families, COVID-19 pushed us inside. At the time, we were living in a 1,200-square-foot home that we bought in 2004. We thought this would be our five-year house and then we would move to something bigger. But then, the housing bubble burst and five years turned into 16. We have two kids and all their stuff. We have 16 years of accumulation in that old house. There was no storage. Things were on top of things. We were on top of each other.
When the pandemic started getting bad, we were suddenly all home trying to work and do school together. My son Hadley (15) and daughter Addison (11) had just started high school and junior high and they were doing virtual school. My husband, Nathan, was working from the kitchen table. Two months into it, we thought, oh my gosh, we can't do this! The kids were coming in and out, he was trying to get his work done.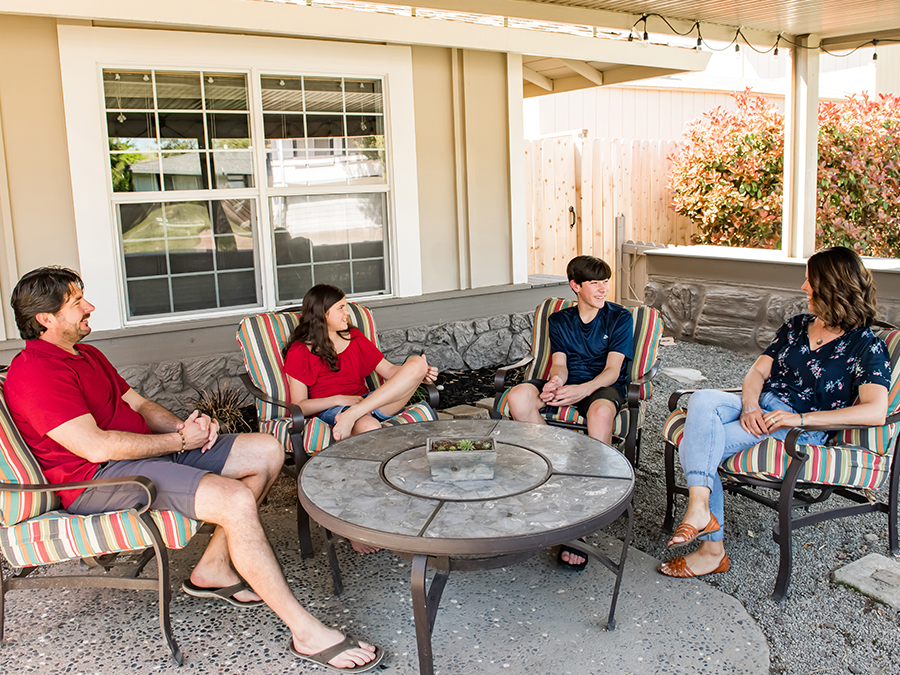 So Nathan moved into our 18-foot trailer outside. We snaked a long ethernet cable out to him and put a space heater in there, since it was winter. So Nathan took all his Zoom calls from that little kitchen dinette that could fold out to a bed if you needed it to. He used a lot of Zoom background filters!
Even though moving him to the trailer helped a little, we knew it was a short-term solution. We weren't ever sure he was going back to the office. We thought about remodeling our house, but then realized how much that would cost, and how little additional space we would actually get. So I said, babe, how about I reach out to my friend Kacy
Kacy, from NextHome Signature Properties, has been a great friend since we were kids. I knew I could talk with her, just to see what was possible for us.
When she ran the numbers, we were shocked. We started to believe that maybe we could do this.
In September, we started looking. The first two offers, we were outbid. They were never really our dream home anyway. We were really settling, and Kacy helped us realize that. She said, "I think you guys are trying to talk yourselves into houses that you could just live with."
She was right. Then we found this place, just five minutes from our old house. When Nathan walked in he said, "I'll sign the papers now!" That was the first time our whole family had that feeling. We threw everything we could at that bid and talked with Kacy about options to make our offer look the best. She got the offer in on the same day!
This home was built in the 1970s, but a company completely renovated it as a flip. Another owner added an upstairs – a beautiful master suite and bath. When the flippers came in, they put in a new kitchen, cabinets, appliances, counters, floors, paint, lighting. Oh, it's gorgeous!
We really wanted this house, so with Kacy, we did everything we could to get it.
There were five other offers on this house, but within 3-5 days they accepted ours. When Kacy handed me the keys, we all giggled. We were so excited and happy!
Now, the kids each have their own room with a desk setup. My husband has his own office. We all have our own space to go to when we need to. This is a house we can grow with. When the kids get older and have their own families, they can come visit and have their own space. It can evolve with us.
There's also this covered area on the front porch, and we have been hosting socially distanced happy hours out there. It's been really nice to be the social people that we wanted to be but just couldn't.
Living here really is a dream. I walk around this place giggling, wondering if this is really real! As silly as it sounds, I feel like our life has opened up. I see so much more than just a house with more room. Now I see family and friends gathering, milestones being celebrated, everyday life being lived and, well, I simply see joy that wasn't there before. Where before we had a house now we have a home- our forever home.