JOHNSON CITY, TENNESSEE — I recently sold the house I lived in since I was eight years old. Daddy bought it after he got out of the Army and there was so much of him in that house. The home was built in 1955 and had three bedrooms and two bathrooms. Daddy was a great woodworker and put a lot of cabinetry in. He redid the kitchen for my mamma, with his own handwork in the wood. 
I remember the smell of fresh bread in the kitchen. And I remember Mamma in the morning in that kitchen, making coffee in her night robe. I would watch cartoons in the morning, and Mamma would shout from the other room that I was going to miss the bus.
Mamma insisted that the Christmas tree go in her room, because that was where the best window was. Years of birthdays, Christmases, and family dinners all left memories there. My parents had three kids to feed and they both worked. But, they put every extra penny they had into that house.
I grew up, joined the Air Force, and had a baby girl. But I would come back to the house a lot. Every weekend, grandma, and grandpa hosted a sleepover for my daughter. They would laugh, cuddle, watch movies, and just be silly together.
Daddy built some stairs and also a deck on the back that he covered. Back in the day, Mamma and I both smoked and we would spend hours on that porch just talking and smoking, and laughing. It's the little things like that you remember.
In 2012, the house became too much for them to care for. So they moved out and I moved in.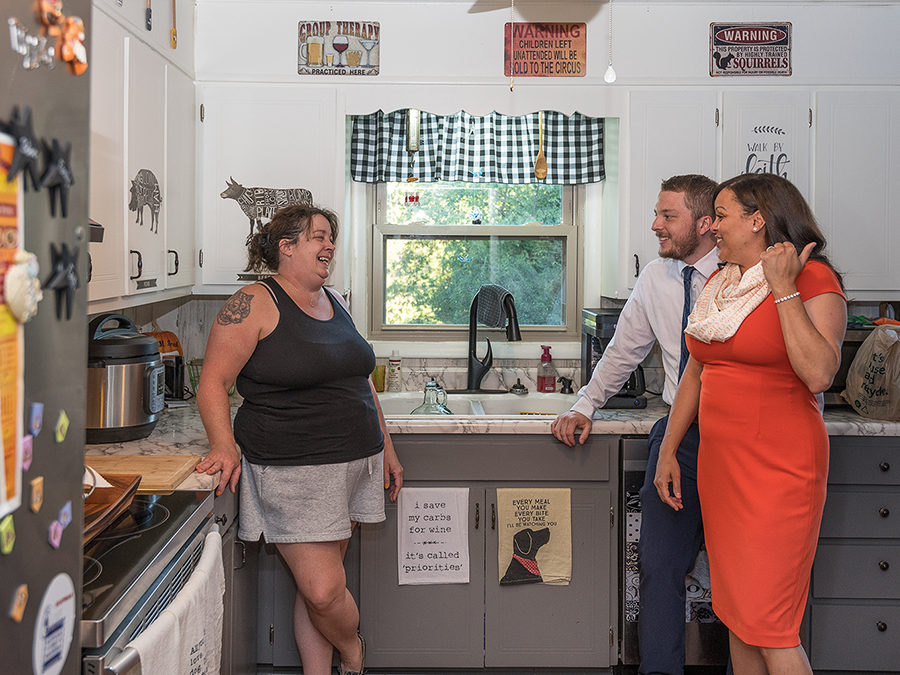 My parents put a lot of work into that house and it broke their heart when they couldn't take care of it anymore. Daddy couldn't even go back to look at it – it hurt too much. Mamma made me promise that I would try to keep this house in the family.
My mom passed away in 2014 and my dad passed about five months later. But I stayed in that house, surrounded by 38 years of memories.
Time passed and my health began to fail as well. Back in June, I had abdominal surgery to remove a tumor. That was it – I knew I couldn't take care of that house anymore and I needed to sell it.
The first real estate agent I found wasn't great. I started looking on my own for a new place for me to buy, and that's how I got connected to O'Mayra Diaz and Seth Lester with NextHome Magnolia Realty. They were a much better fit for me and we started the process of not only finding me a new house, but also selling my childhood home. They took pictures, got everything ready, and put the sign up.
I work from home, in a little office where my daughter's height is marked against the wall. She's grown now.
During one of the showings, I ended up being there and these tall men came to see it. As soon as I walked out of the office, I said that this is not the house for you guys. It's a short-people house. Anyone above 5'7" runs the risk of whacking their head somewhere. They told me they were actually looking for their aunt.
I didn't think much of it. But I did tell O'Mayra and Seth that if the right person came along, I would work with them on the price. I couldn't let this house go to just anyone.
One of those tall guys came back with his aunt and his aunt's daughter, Angie. As they walked through the house, I could tell something was different. Then, this aunt started telling me all these stories about how her daddy built this house. He laid the steps.
Then, they went into my office. Apparently, this was the room that Angie's mother had been born in.
After Angie was pre-approved for a home loan, she said how amazing it would be if her grandpa's house was for sale. Two days later, O'Mayra and Seth put up the sign outside.
Well, we sat at that kitchen table and talked. Angie and I became great friends and we really bonded over the silly little hassles of home buying and selling.
But she knew she could never afford my house, and I heard through the grapevine that her agent had told her not to even bother putting in an offer.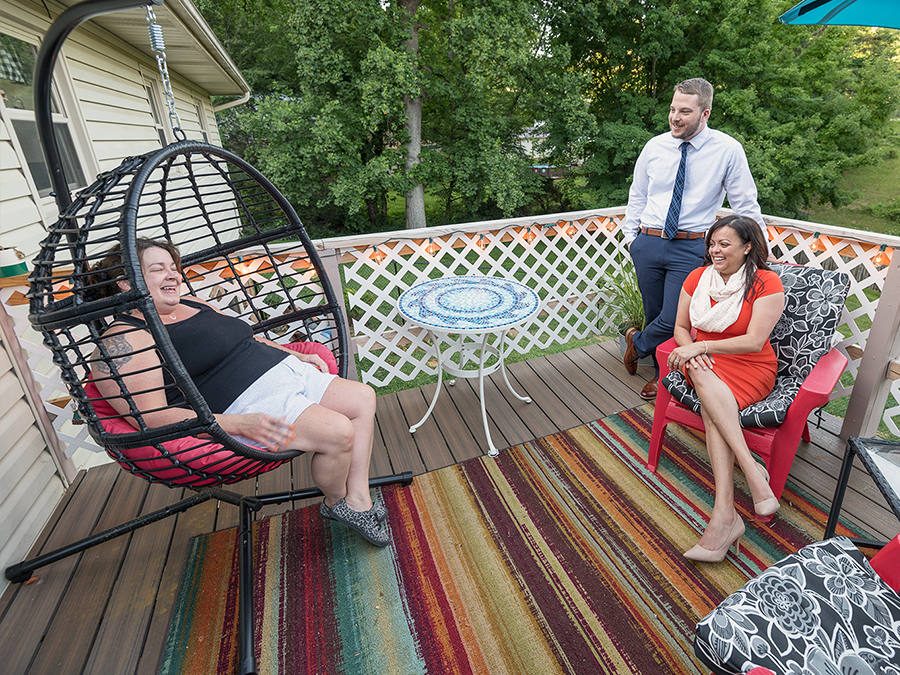 I had priced the house really high in an effort to discourage an investor who might remodel and flip it – and rip out all the beautiful things my Daddy had done.
One night, Angie and I were texting and I asked her straight what she could afford. She told me and I said, "Done."
I had promised my mom that this house would stay in the family. My daughter didn't have any desire to buy it. In a way, I feel like by selling it to Angie and her husband Chris, it did stay in the family. Because they are family to me now.
I've gone to see them a few times. And I figured it would kinda hurt going back there. Because 38 years is a long time to be in a house. But it feels good to walk in and know that they love it as much as we did.
Chris is so energetic, he's already been out in the yard and done some projects. I went by last Saturday and when I got out of the truck it almost made me cry, because he was able to do what I was no longer able to do.
It's in good hands. We've all become really good friends and we try to look out for each other.
I know that house is being loved. Memories are being made in it. So it was easier for me to say goodbye and let them take it over. Plus, I love the new place O'Mayra and Seth found for me!