ANDERSON, INDIANA — My grandpa has always been a big part of my life, so when I found this place with so many things that reminded me of him, I knew it was meant to be our home.
After all the awful things my daughter and I have been through to get here, being in this home is life changing. It is my place of healing.
To know why this home is so special to me, I'll have to tell you a little more about my grandpa. Both of my parents were in and out of prison growing up, and my mom died of a tragic drug overdose when I was 14. This broke my heart because my mom always made sure I understood how much she loved me. She was really an outstanding mother, but drugs can have horrific power over even the best people.
After my mom's death, I was raised by my grandparents and their home offered me a loving place to heal. Growing up, my grandpa was my best friend.
He was an auto body worker and had a detached garage behind his house. Pictures of rebuilt hot rods that became absolute masterpieces hung on the walls of the shop. My dad was a big NASCAR fan, and reminders of these remarkable cars were also all around the shop. I would spend hours out there with him. Sometimes he would give me pieces of wood, a hammer, and screwdriver, and I would just play. The doors to his shop would always be wide open and the smell of car paint would float through the air. He always had my favorite pop in the fridge, but on cold days we would dance in front of the kerosene heater to get warm. My grandparent's house was home to anybody and everybody. All were welcome.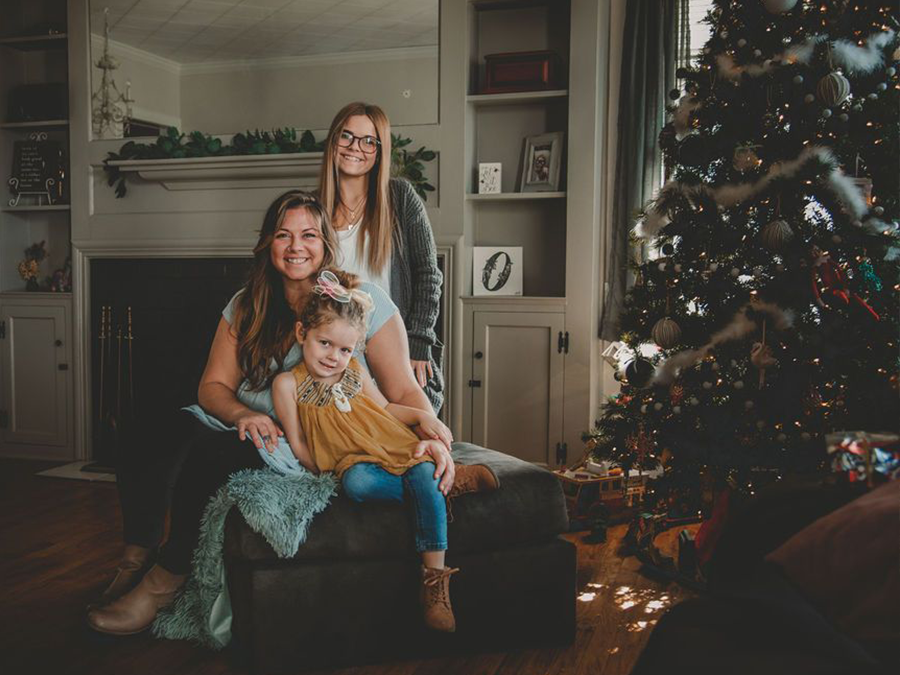 When I was 26, I got pregnant with my daughter. Grandpa wasn't too thrilled about it, but continued being loving as always. Unfortunately, his health was failing. When I was six months pregnant, he decided that he couldn't stand dialysis any longer. He passed away two weeks later. I watched him take his last breaths. Then, my grandma passed away the Friday before I had my daughter.

Time marched on, and the night of my daughter's second birthday party my ex-husband told me he was leaving me. I found out the next day that he was having an affair. When I found out why he was leaving me, I never looked back. We had only been married for four months. The divorce was ugly. My name wasn't on the marital house and he sold it. I needed a new place to live. Although I tried to buy, things didn't work out. I ran out of time and needed to find some place to rent.

The place we ended up at wasn't great. I was at a really bad point in my life.

The rental was a place to grieve it all out, but I knew I needed to find a better home. Liz [Stone, with NextHome Elite Real Estate] and I met through the law office I worked at. Liz was always the one cheering me on. I can't ever thank her enough for what she did for me. She is a wonderful human and an even better REALTOR®.

After reaching out to the first lender, I was discouraged. They said I would need a lot of money to close.

"I asked her to reach out to a different lender," Liz added. "This lender was able to help her get approved and told me that we would need to ask for seller concessions. I was determined to make it happen."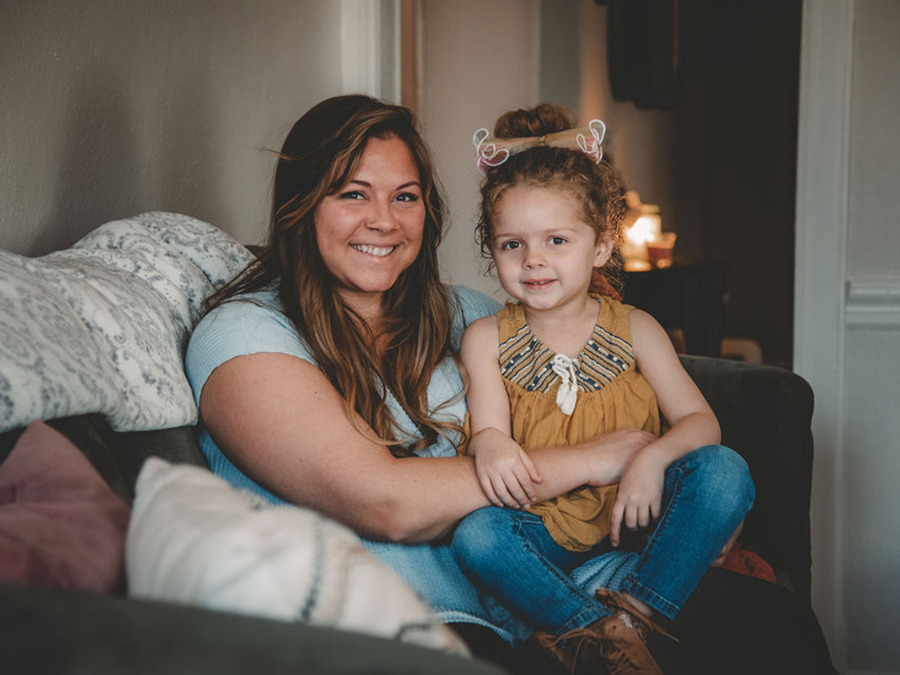 We spent two months looking, and I started to get really discouraged. My rental agreement was ending soon and the money to buy a home was more than I could come up with.
What Liz kept saying to me when offers fell through was, "It's not meant to be. When you find the right house, the one that's meant for you, the stars will align and you will know it."

It seemed like I had already reached lower than low when we finally found this house. The pictures online weren't great, but Liz kept motivating me so we looked at it anyway, and I am glad I did.

This house was being sold through an estate sale. It had three bedrooms with a big bathroom. There was original hardwood throughout the home and this amazing, giant fireplace. The kitchen was huge and we put new appliances in there. Growing up, my grandma would always make the best home-cooked meals. The kitchen was the heart of the home, and I missed that. In the rental, we had an electric burner we just plugged into the wall. This home Liz and I looked at had a porch that was beautiful and cozy, and a large garage in the yard.

When I saw the garage, I knew this would be my home. The former owner was a body shop worker, and the garage was filled with all my childhood memories. It had the smell of paint floating through it and the seller had pictures of cool cars hanging on the walls, just like my grandpa did. There were also NASCAR and Dale Earnhardt pictures everywhere.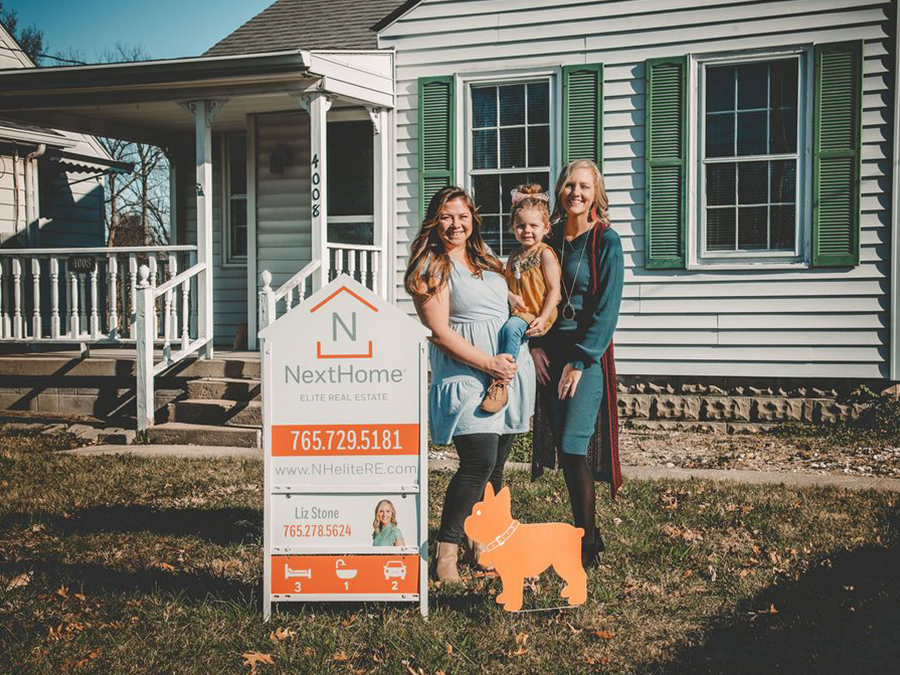 I'm not sure, but my grandpa may have known the man who lived here. He knew everyone and was so friendly.
"We put in an offer with seller concessions and it was accepted," Liz said. "After appraisal Haley was still walking away with equity in the home. I am so proud of this single momma. Just when she thought she couldn't, she could!"
The thing I would say to another single mom who is losing hope, is that you will always make it. No matter what needed to happen, I always found a way. Hope is powerful.
I am having so much fun making this home mine. It finally feels like I am actually home and I can breathe. My daughter plays in the backyard and the neighbors behind us are so nice. I go out in that garage on the weekends, remembering my grandpa and soaking it all up. I'm glad I was able to find a place that feels like home, and where everyone can feel loved, just like he would have wanted.